20210429 Thane: Short-circuit sparks fire in Mumbra hospital, 4 critical patients gasp to death

India Dec 03 2021 "Building" "Hospitals"
Dead : dead 1 to 4 Burnout : 1 to 29 Injured : injured 0 or unknown
Thane: Short-circuit sparks fire in Mumbra hospital, 4 critical patients gasp to death
Updated: 2021-04-29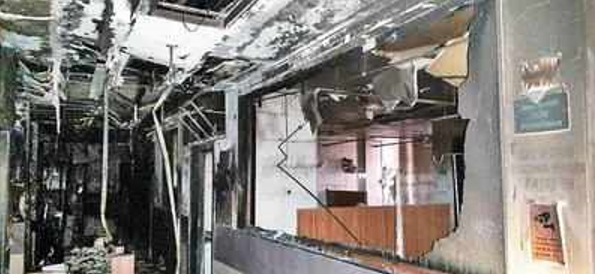 THANE: The spate of hospital fires continued in the state with four critically ill patients admitted to a private hospital in Mumbra dying early on Wednesday. The four died gasping for breath while being wheeled out amid dense fumes that engulfed the structure following a short-circuit in the main electric panel, Thane municipal officials said. Just last week, 15 patients had died at the Vijay Vallabh hospital in Virar after a fire broke out there.
Twenty non-Covid patients were being treated at the Prime Criticare Hospital in Kausa, including six in the ICU. The patients were pulled out without any burns, but the four who died had possibly inhaled fumes, an official said.
Some quick thinking and alertness shown by local residents, a majority of whom were gearing up for sehri, also perhaps helped contain the fatalities and rescue patients who were stuck. Advocate Farhan Ansari (28), who lives close to the hospital, said he rushed out after hearing screams for help and immediately started loosening the iron grilles on the hospital windows to help patients escape as there was massive smoke at the main entrance.
'Safety norms violated, complaints ignored' strong Four critically ill patients admitted to a private private hospital in Mumbra died after a fire broke out in the facility early on WednesdayA civic rescue worker said, "The fire was triggered at around 3.40am by a short circuit in the meter room, following which it spread to other areas. There was dense smoke, and our teams had to use special exhaust fans and oxygen masks to enter the premises. While patients in the general ward on Level 1 managed to escape in time, those in the ICU on the ground floor had to be relocated with assistance. A few tried to break the window grilles and escape."
Those who died were Yasmeen Sayed (46), Nawaz Shaikh (47), Halima Salmani (70) and Hari Sonawane (57). An accidental death report has been registered by Mumbra police for now, while a parallel probe will be conducted by municipal officials.
Police and rescue teams reached the spot and managed to douse the blaze that was eventually controlled by 9 am along with active participation from locals.
A few witnesses said there was a huge blast in the early hours, which woke up many locals. "There was total darkness all around, and soon we could see flames emanating from one corner and engulfing the wooden furniture kept there. There were patients and relatives screaming for help, and in the melee, many didn't know what to do as they looked for the exit," said the relative of a patient who had stayed back on Tuesday night.
Rescue officials said they evacuated the entire building as a precautionary measure and continued with their rescue operations. Some local residents ensured some oxygen cylinders kept within the premises were instantly removed.
A senior fire brigade officer said preliminary investigations revealed short-circuit to be the reason behind the blaze that gutted down the entire ground-plus-one hospital constructed in the seven-storeyed Hasnain Tower building. A few nearby residents said they had complained about the possibility of the hospital violating safety norms in the past, but to no effect.
MLA and housing minister Jitendra Awhad, who reached the spot, spoke to chief minister Uddhav Thackeray and announced monetary compensation to the kin of the dead. Thane guardian minister Eknath Shinde also visited the facility in the morning along with municipal commissioner Dr Vipin Sharma and announced additional monetary compensation to those affected.
"The mishap is unfortunate. I have asked the municipal administration to take prompt steps and undertake fire, structural and oxygen audit of all Thane hospitals to avoid recurrence," said Shinde.
There was brief tension at the spot as BJP leader Kirit Somaiya tried to enter the facility, but local NCP leaders including TMC opposition leader Ashraf Pathan staged a protest against Somaiya, alleging he was politicising the matter. Somaiya had earlier lashed out at the Maha Vikas Aghadi government following three back-to-back mishaps involving hospitals in Thane city.
Meanwhile, officials said the healthcare facility had failed to conduct a fire safety audit as mandated by the corporation recently. The bustling suburb of Mumbra has nearly 50 small and medium-sized nursing homes and hospitals, but most of them seem to have failed to get the mandatory safety clearances, leading to such disasters, activists said.
Web Source: The Times of India
https://timesofindia.indiatimes.com/city/thane/maharashtra-safety-norms-violated-complaints-ignored/articleshow/82299299.cms