20210430 Forest fire in Mizoram's Lawngtlai district

India Dec 06 2021 "Forest"
Dead : dead 0 or unknown Burnout : 0 or unknown Injured : injured 0 or unknown
Forest fire in Mizoram's Lawngtlai district
Updated: 2021-04-30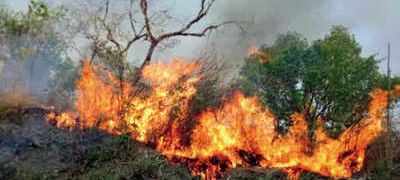 AIZAWL: Barely days after the forest fire in Lunglei district was extinguished, a massive forest fire, which originated from South Lungpher South, a small village near the Myanmar border Lawngtlai district in southern Mizoram, engulfed the 'Phawngpui tlang' since early Thursday morning.
Desperate attempts by volunteers from nearby villages and employees of the state environment, forests and climate change department on Thursday helped reduce the impending massive destruction, but the fire resurfaced in several places.
A single attempt to douse the fire by an Indian Air Force helicopter using a Bambi bucket did not help much, a local village leader said, adding that volunteers, who spent the Wednesday night began their efforts to extinguish the fire again from Thursday evening.
Lawngtlai district experienced heavy rainfall on Thursday, but it was not immediately known if it helped bring the fire under control.
Web Source: The Times of India
https://timesofindia.indiatimes.com/city/guwahati/forest-fire-in-mizorams-lawngtlai-district/articleshow/82323443.cms