20210430 3-month-old among 6 of a family dead in fire

India Dec 08 2021 "Building" "Houses"
Dead : dead 5 to 9 Burnout : 1 to 29 Injured : injured 1 to 9
3-month-old among 6 of a family dead in fire
Updated: 2021-04-30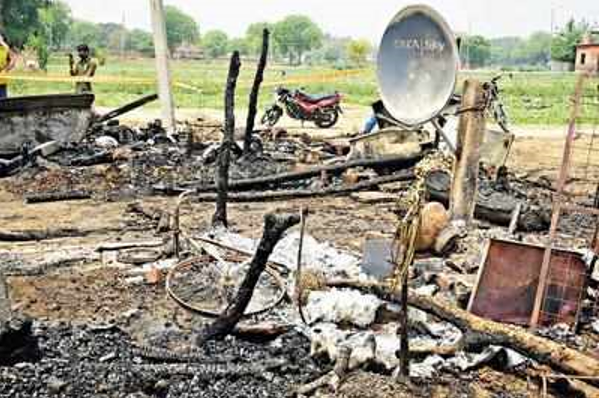 New Delhi: Six members of a family were killed in the fire that engulfed their hut in a field in southwest Delhi's Bijwasan, after an LPG cylinder in the house exploded in the early hours of Thursday.
The deceased include a couple and their four children. They have been identified as Kamlesh (37), his wife Budhani (32), their two daughters aged 16 and 12 and two sons, 6 years and 3-months-old.
Fire officials and local police received a call regarding the fire around 12.30am, after which four fire tenders were rushed to the spot. Officials found that two huts had caught fire and the occupants of one had been charred to death. However, the five residents of the second shanty escaped.
Prima facie, enquiries suggest that the fire started from a nearby transformer after a possible short circuit and rapidly spread to the shanties. A cylinder in the house also caught fire and exploded, killing the six residents on the spot. Officials said that the residents were likely asleep and couldn't escape.
The bodies were taken to Safdarjung Hospital, where they were declared brought dead and sent for postmortem examination. Police said they have registered a case and are conducting an enquiry.
In a related incident, four members of a family were severely injured after two LPG cylinders at their home caught fire. The victims were identified as Shailender (35), Koshlender (29), Rani (15) and Shubham (9).
While Shailender and Rani suffered 80% burns, the other two sustained around 40% injuries. Police received two PCR calls regarding the incident at Ravi Nagar extension in west Delhi on Wednesday night.
The incident happened while gas cylinders were being changed. It is suspected that one of them leaked and caught fire leading to the flames. The cops have filed an FIR into the matter.
Web Source: The Times of India
https://timesofindia.indiatimes.com/city/delhi/3-month-old-among-6-of-a-family-dead-in-fire/articleshow/82317826.cms