20210517 Haryana: Bir of Guru Granth Sahib burnt in fire incident at Ambala gurdwara

India Jan 07 2022 "Building" "Other bldg."
Dead : dead 0 or unknown Burnout : 1 to 29 Injured : injured 0 or unknown
Haryana: Bir of Guru Granth Sahib burnt in fire incident at Ambala gurdwara
Updated: 2021-05-17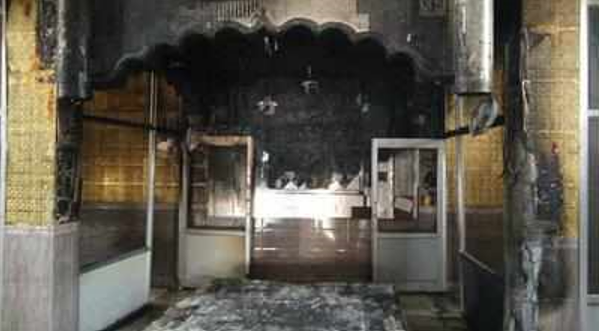 The fire was reported at the gurdwara at around 10.30am.
AMBALA: A 'bir' of the Guru Granth Sahib was burnt in a fire at Gurdwara Sri Guru Singh Sabha in Ambala Cantonment area of Haryana at about 10.30am on Monday.
Sources said that no officials of the gurdwara management committee or volunteers were present inside the sanctum sanctorum of the shrine, when the incident took place.
Gurdwara president Sarabjit Singh said, "A devotee saw the blaze at the shrine and raised an alarm. The sangat gathered and started dousing flames. Meanwhile, the fire brigade was also called but we managed to control the fire on our own. The incident took place due to a short circuit."
The local sangat alleged negligence on the part of the gurdwara management committee.
Following the report of the incident, the officials of Shiromani Gurdwara Parbandhak CommitteenSGPC in Amritsar inspected the gurdwara premises.
Haryana home and health minister Anil Vij also visited the gurdwara.
SGPC's deputed official, preacher Satnam Singh from Panjokhra Sahib said, "One bir of Guru Granth Sahib has been burnt in the fire. As per the statements of the management committee, the incident took place at about 10am on the main palanquin, where prakash of bir was done. The incident is stated to have taken place due to short circuit in a mosquito repellent machine."
Web Source: The Times of India
https://timesofindia.indiatimes.com/city/gurgaon/haryana-bir-of-guru-granth-sahib-burnt-in-fire-incident-at-ambala-gurdwara/articleshow/82713030.cms