20210122 Fire breaks out at Nashik Municipal Corporation headquarters, no casualties

India Jan 29 2021 "Building" "Other bldg."
Dead : dead 0 or unknown Burnout : 1 to 29 Injured : injured 0 or unknown
Fire breaks out at Nashik Municipal Corporation headquarters, no casualties 
Updated: 2021–01–22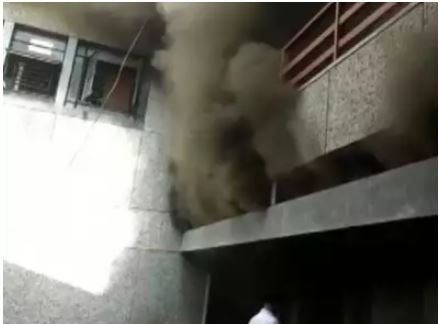 The fire at nashik civic body headquarters broke out at around 11am. (ANI Photo) 
NASHIK: A fire broke out at the Nashik Municipal Corporation (NMC) headquarters on Friday.  
The fire was reported at around 11am at the chamber of NMC's leader of opposition and Shiv Sena corporator, Ajay Boraste.  
No casualties were reported in the incident, however, the furniture in one of the rooms of Borsaste's cabin was gutted in the blaze.  
Boraste was not present in his chamber at the time of the incident.  
Five die in fire at Serum plant, Covishield production unaffected Security guards deployed in the building brought the fire under control by using fire extinguishers before it could spread further.  
Later, two fire tenders of the NMC reached the spot and doused the flames.  
A short circuit could have caused the fire, said Nashik municipal commissioner Kailas Jadhav.  
He asked the concerned officials to ascertain the actual cause of fire. 
Web Source: The times of india 
https://timesofindia.indiatimes.com/city/nashik/fire-breaks-out-at-nashik-civic-body-headquarters-no-casualties/articleshow/80403129.cms