20210128 Fire breaks out at oil packaging factory in Vizag, no casualties

India Feb 09 2021 "Building" "Factories"
Dead : dead 0 or unknown Burnout : 1 to 29 Injured : injured 0 or unknown
Fire breaks out at oil packaging factory in Vizag, no casualties 
Updated: 2021–01–28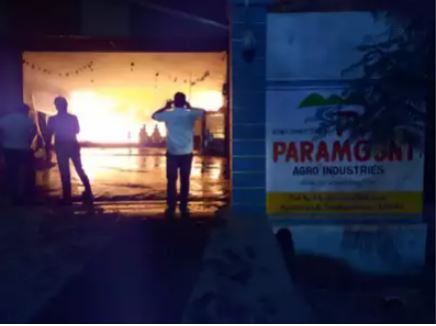 Several fire tenders rushed to the spot to douse the blaze. 
VISAKHAPATNAM: A major fire broke out in an oil firm on the outskirts of Vizag on late Wednesday night.  
Firefighters rushed to the spot to douse the fire. No casualties were reported from the incident as employees had left the spot before the fire broke out.  
Sources said that the incident took place at 10:30pm at Vizag-based Paramount Agro Industries. The fire at the packing division located in APIIC Industrial Park at Aganampudi sent the locals into panic as thick smoke engulfed the neighbourhood.  
District disaster management services officer BVS Ram Prakash told TOI that the fire engulfed the entire area because of the inflammatory nature of the packing material of edible oils.  
Police suspect that a short circuit led to the fire. The property loss due to the fire is yet to be ascertained. 
Web Source: The times of India 
https://timesofindia.indiatimes.com/city/visakhapatnam/fire-breaks-out-at-oil-packaging-factory-in-vizag-no-casualties/articleshow/80495308.cms