20210214 Fire destroys three boats at Thọ Quang port

Vietnam Feb 18 2021 "Shipboard"
Dead : dead 0 or unknown Burnout : 0 or unknown Injured : injured 0 or unknown
Fire destroys three boats at Thọ Quang port  
Updated: 2021–02–14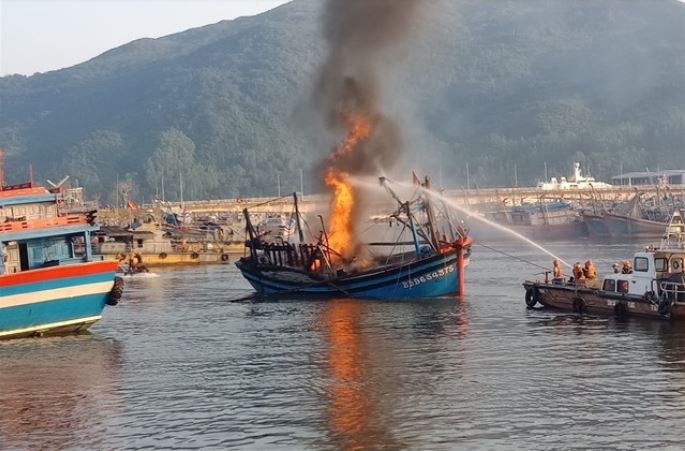 Local fire prevention forces try to stamp out the fire on a fishing boat in Thọ Quang fishing port of Đà Nãng. Three boats were completely damaged, while other five boats suffered small loss. Photo courtesy Nại Hiên Đông ward authority 
ĐÀ NẴNG — Three fishing vessels were destroyed by fire while five others suffered minor damage after a fire at Thọ Quang fishing dock at 5.40am on Sunday. 
Fire prevention and rescue forces from Da Nang City's public security and border guard were sent to stamp out the fire. 
The city's Agriculture and Rural department said three boats from Bình Định Province were destroyed, while four other boats from Quảng Ngãi and one from Bình Định suffered minor damage. 
The cause of the fire has yet to be determined, but local authorities said the fire likely started from incense burning on one of the boats. 
Thọ Quang port is a key fishery logistics centre in central Việt Nam as it shelters at least 2,000 fishing boats docking during the Tết (Lunar New Year) holidays. 
Police are investigating the fire. — VNS 
Web Source: Vietnam news 
https://vietnamnews.vn/society/874029/fire-destroys-three-boats-at-tho-quang-port.html