20210210 Fridge components destroyed by fire at industrial estate

Thailand Feb 18 2021 "Building" "Factories"
Dead : dead 0 or unknown Burnout : 1 to 29 Injured : injured 0 or unknown
Fridge components destroyed by fire at industrial estate 
Updated: 2021–02–10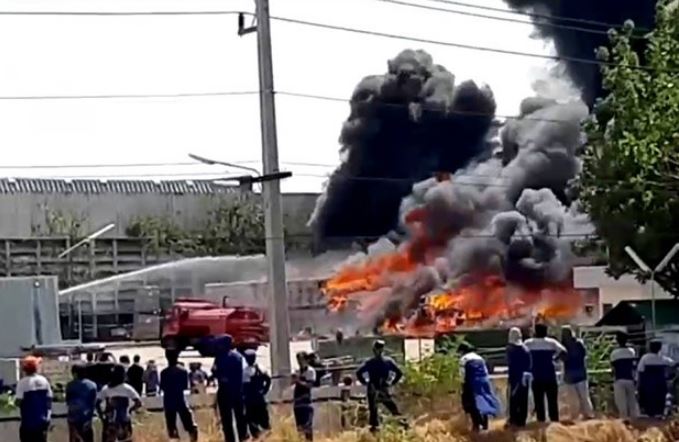 Fire engulfs stored refrigerator parts at a Haier Electrical Appliances (Thailand) factory in Kabinburi Industrial Estate on Wednesday. (Photo: Manit Sanubboon) 
PRACHIN BURI: Fire destroyed a large quantity of refrigerator parts at an industrial estate in Kabin Buri district on Wednesday afternoon. 
Pol Capt Chaiyong Ampansen, an investigator at Kabin Buri police station, said the fire broke out about 12.30pm in refrigerator parts stored on a concrete apron inside a factory at Kabinburi Industrial Estate. 
Chemical substances within the parts caused the flames to spread very quickly, sending  black smoke and flames billowing into the sky. It could be seen more than 10 kilometres away. 
The refrigerator parts belonged to Haier Electrical Appliances (Thailand). 
Six fire engines from local administrations were rushed to the scene. The crews confined the blaze, preventing it spreading, and had it under control after about three hours. 
The parts were being stored pending delivery to an assembly plant. The damage had yet to be assessed. 
The cause of the fire was being investigated. 
Web Source: Bangkok post 
https://www.bangkokpost.com/thailand/general/2065995/fridge-components-destroyed-by-fire-at-industrial-estate