The 21st Century COE Program, "Center of Advanced Fire Safety Science and Technology for Building" (21st COE) produced two major outcomes, one of which was the development of "theory" pertaining to performance-based fire safety design and the other of which was the development of "practice" through experimental research utilizing a full-scale experimental facility. Using these two pillars, the Center will further research and deepen our understanding of how to control the potential fire risks that are increasing along with the use of new space (high-rise or underground) and new materials (mainly aluminum and plastics), which are inevitable changes brought about by modernization, industrialization and energy conservation.
Specifically, in response to the drastic modernization of East Asia where there appears to be the highest risk in utilizing new space and materials, fire risk needs to be assessed for the major cities there by working together with researchers from each region, and a research network and specific education system is to be developed in order to introduce effective measures for such risk. This network will help society to control critical accidents occurring in underground or high-rise spaces.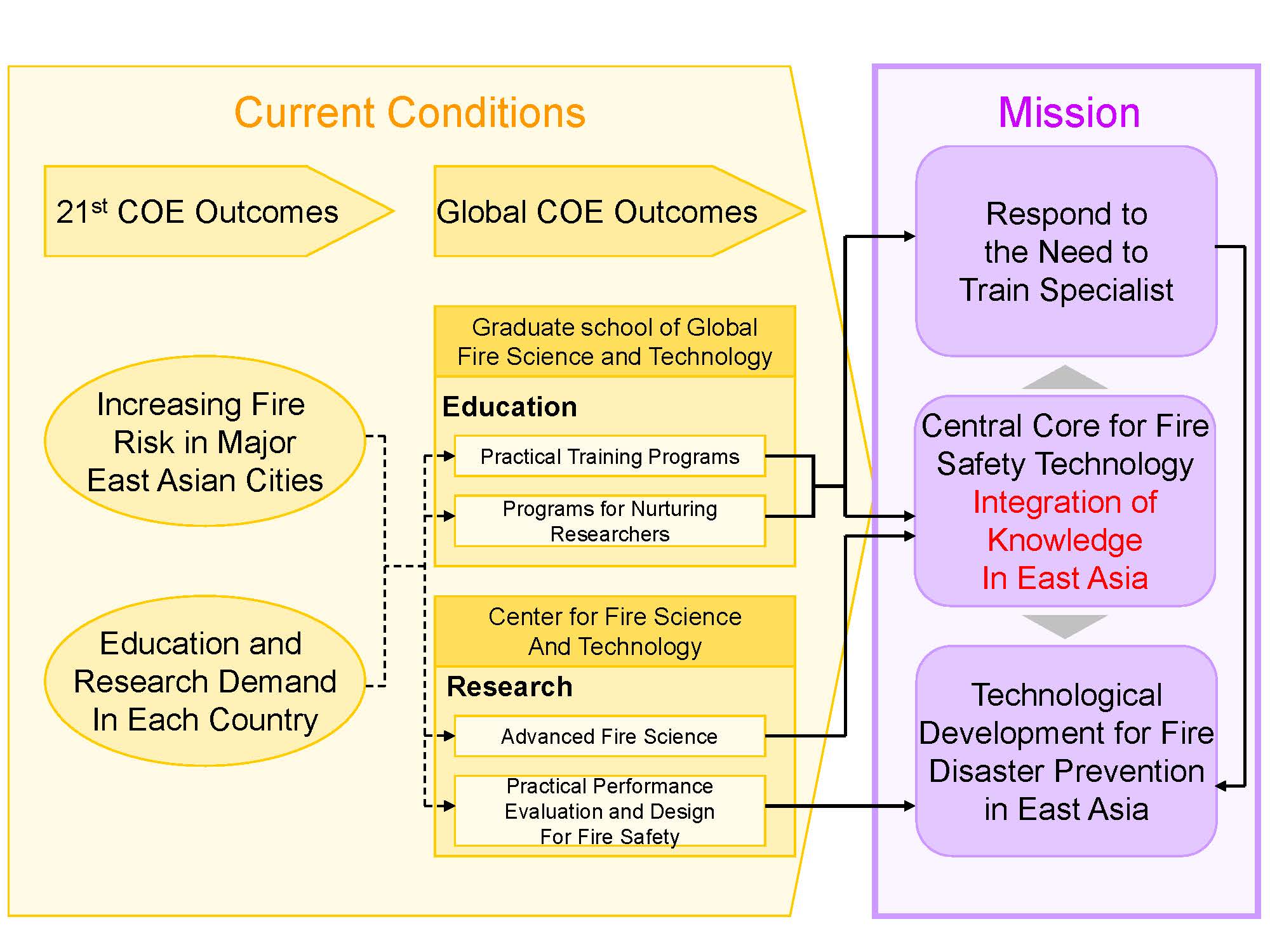 Once a fire accident occurs, by applying theoretical analysis and utilizing a full-scale test laboratory to produce highly reproducible results, effective and specific measures will become available to prevent a recurrence of the fire accident. In addition, the professional abilities of fire protection engineers (who put the safety measures into practice based on the research findings) could be better defined and better standardized via education provided to firefighters.

TO THE TOP OF THIS PAGE
Currently, graduate students of the COE Fire Science in the Facility of Science and Technology are receiving individual research guidance for their individual research topics. Besides academic activities, practical training programs have been introduced to nurture personnel with a broad scope of knowledge. TUS has established the first and only graduate course for Fire Science in Japan as a part of the Global COE Program, enabling us to provide an integrated academic program for fire safety engineering that overcomes disciplinary boundaries across many fields of study.
In addition, by accepting a larger number of international students mainly from East Asia, Japanese students can acquire and strengthen their ability to communicate internationally, to attain great success at the global forefront. Through the academic research activities undertaken, TUS will train students who will be able to contribute to advancement in the field as follows:
Understand and elucidate the burning properties of various materials and fuels in order to ascertain the cause of fire and to develop new materials (flame-retardant and/or noncombustible materials)
Develop prediction models for fire behavior and evacuation behavior based on remarkably advanced technologies such as CFD (Computational Fluid Dynamics)
Understand the evaluation and design systems of fire protection in buildings so as to be able to initiate the introduction of fire safety design from both structural and material aspects.
This opportunity is not only available to students but also to firefighters seeking a career path, and can be utilized to educate and foster specialists in the fields of insurance appraisement and technology standardization. This will be facilitated by a curriculum that employs laboratory and practical training for real world situations in order to strengthen their expertise.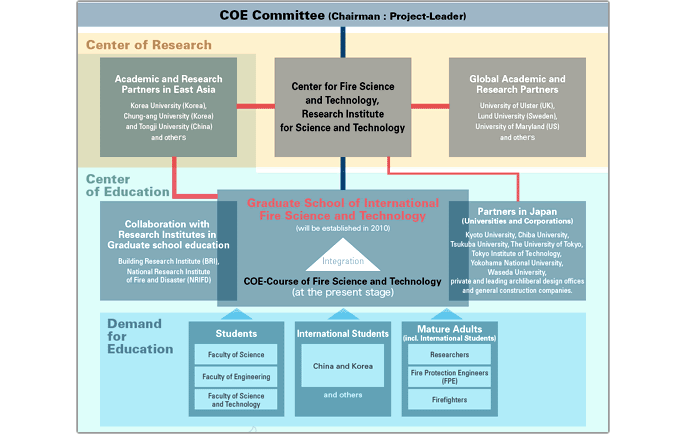 TO THE TOP OF THIS PAGE

By collaborating with the Building Research Institute (BRI), a national research institute that conducts a wide variety of comprehensive, multi-disciplinarily research in building and urban designs, the Center will expand the capabilities of academic research and international exchange to further improve fire safety based on theory and practice.
Collaboration in research advancement and academic practice through an exchange program
――BRI: Research advancement through collaborative research
――TUS: Research guidance with partner graduate schools
Cross-fertilization of the excellent planning ability of BRI and the Center's academic research based on theory and practice
――BRI: Improvement in plan viability
――TUS: Advancement in personnel training
Environmental improvement in the advancement of research and practice via an international network
――BRI: Global cooperation with international research institutes (NIST, BRE) and others
――TUS: Global cooperation with universities advanced in research and education for fire safety engineering